Running a link building company gives me the opportunity to talk with many entrepreneurs who have brand-new websites and are looking to increase their organic search traffic.
Often, these business owners want to know how long it takes a new website to start ranking well in Google, and exactly how many backlinks they'll need to achieve those results.
When it comes to increasing your organic search traffic, patience is always required.
And exactly how many links you'll need depends entirely on your market and your website.
But, based on my experience, it is indeed possible to obtain significant organic traffic within a year or two.
To prove what's possible to achieve, I decided to take a deep dive into the SERPs, and I successfully identified several relatively new websites that are killing it.
Get Instant Access to my personal SEO Toolkit jam-packed with Free SEO goodies
For the sake of simplicity, I picked two websites that were created just over a year ago. I then performed a comprehensive link breakdown to find out exactly what makes them tick.
By the end of this article, you'll learn what to realistically expect from effective link building on a new website.
It should help you plan your link building efforts, your SEO budget, and even provide you with some motivation.
Summary of the 2 sites we'll be analyzing
The two sites that I identified are Site #1 and BatsFinder.
[Note: Site #1 requested to remove any mention of their name, so 'Site #1′ will have to do!]
Both were created near the middle of 2016, and now have large volumes of valuable  organic traffic coming from Google right around 1.5 years later.
All the data in this post was obtained from Ahrefs.
Here's a general summary of each site before we dig in deep:
| | | |
| --- | --- | --- |
|   | Site #1   | batsfinder.com   |
| Creation Date | 5/26/2016 | 4/13/2016 |
| Search Traffic (month) | 102,000 | 14,000 |
| Traffic Value | $71,900 | $8,800 |
| Domain Rating | 54 | 49 |
| Linking Root Domains (LRDs) | 1,120 | 259 |
| # of Keywords (ranking top 10 with 100+ searches/month) | 2,406 | 364 |
| Number of site pages | 131 | 95 |
While Site #1 is clearly on a different level than Batsfinder, both have significant organic traffic for relatively new sites.
The biggest difference between them is the effort put into link building.
Site #1 has about 5 times as many LRDs, and about 7 times as much traffic, this isn't a coincidence.
There's a few similarities I'd like to point out:
They mainly rank for commercial terms – As we'll examine later, they aren't ranking for general information terms that are worthless. They rank for specific product-related searches that have commercial intent.
They clearly both do active link building – It's pretty obvious that both these sites have spent considerable time or money on building links.
Let's break down each site now, one at a time.
How Did Site #1 Build Up Their Link Profile
I'm not going to focus on low-quality links. They have very little, if any, effect on rankings and my guess is these links weren't actively pursued. Most backlink profiles are going to have some lower quality links and according to Google, isn't something you should be concerned with.
So, I downloaded the links for Site #1 from Ahrefs and removed all the links with a 0 URL rating.
A URL rating is a score from 0-100 that gives a decent idea of how powerful the link is in an SEO context.
These links were "grouped by similar links" if you're trying to replicate the results yourself. This just gets rid of accidental duplicates in their system.
Here's what the overall distribution looked like:
| | |
| --- | --- |
| URL Rating Group | # of Backlinks |
| 1-9 | 2,130 |
| 10-19 | 833 |
| 20-39 | 59 |
| 40-59 | 25 |
| 60-79 | 0 |
| 80-100 | 3 |
70% of the links were lower authority (<10 URL rating).
27% were higher authority, but still pretty low. They definitely have an impact on the rankings, but not as much as you might think.
The remaining 3% are plotted below. They were all above a 20 URL rating. The 3 that are over 80 are amazing links.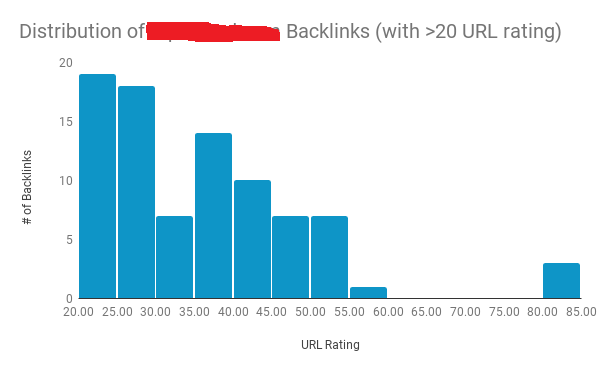 How fast were these links built? (a.k.a. Link velocity)
I get that seeing 1120 LRDs can be overwhelming.
But let me break it down for you, and I think you'll find it more realistic.
This is Site #1's all time referring domains graph at this point:
The link building started shortly after the site was built.
We can zoom in on the last year:

The big takeaway is that it's a slow and steady increase in LRDs, about 63 per month, or 2 per day.
That's doable, even if you don't have a huge budget.
You also don't need to build links at this exact pace if you're okay with slower results.
How fast did Site #1 start to get organic traffic?
Speaking of results, organic traffic is the only metric that really matters.
Here's what their organic traffic growth looks like:

Ahrefs shows a bit of a strange plateau at the beginning, I'm guessing it's a quirk when tracking new sites.
Links started to get picked up in June of 2016, which is right around the middle of the above graph.
It may not be a linear correlation, but the link building and organic traffic growth definitely seem to be related.
The more links built over time, the more search traffic grew.
What keywords does Site #1 rank for?
As I briefly mentioned, traffic needs to lead to revenue to be valuable.
Almost all of the keywords that Site #1 get their traffic from have high commercial intent. They are able to monetize heavily through affiliate links.
Here are the top 10 terms with how much traffic they generate and how much link building was done to the page that ranks:
| | | | | |
| --- | --- | --- | --- | --- |
| Keyword | Position | Traffic (desc) | LRDs | Links to Page |
| gaming desk | 5 | 3,083 | 14 | 29 |
| best walking shoes | 1 | 2,239 | 23 | 47 |
| best fidget spinner | 5 | 1,078 | 49 | 66 |
| best walking shoes for men | 3 | 996 | 23 | 47 |
| leather sewing machine | 3 | 857 | 18 | 24 |
| high quality fidget spinner | 1 | 815 | 49 | 66 |
| gaming desks | 6 | 798 | 14 | 29 |
| best walking shoes | 6 | 780 | 23 | 47 |
| gaming computer desk | 9 | 598 | 14 | 29 |
| dslr stabilizer | 1 | 491 | 33 | 55 |
There are no super hard terms on this list. They've simple targeted a lot of keywords.
For your site, you might just be targeting a few main keywords, so you may not have to do much link building to see results.
For the keyword "gaming desk," there's only 14 LRDs to the page. Of those, only 4 of the resulting links have URL ratings above 10.
| | | |
| --- | --- | --- |
| Link | DR | URL Rating |
| 1 | 54 | 38 |
| 2 | 45 | 26 |
| 3 | 77 | 14 |
| 4 | 58 | 10 |
There's really only 2 links that I'd consider "good," but still obtainable for any website.
Obviously, having so many pages in the site with links helps pass authority throughout the entire site, which is hard to quantify.
The real takeaway here is that it doesn't take that much to rank for reasonable terms, especially if you're consistent with link building.
How many links does each page have?
Just to make sure those above results aren't exceptions, here's a quick look of how many LRDs go to each page on the website: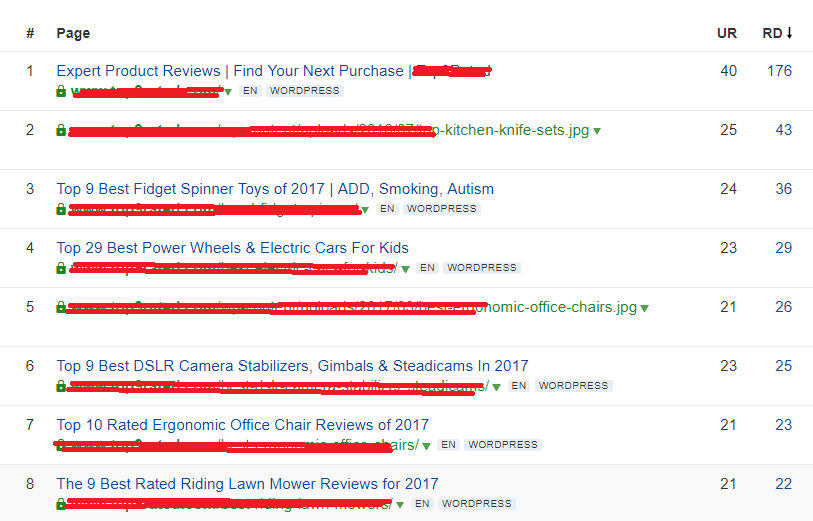 The homepage has the most links, which is natural. Besides that, no other article has more than 36 LRDs.
That's not too many. The impressive part is that they build that many links for about 100 pages.
But you don't necessarily need to target that many pages and keywords to get results that you're with it.
If you'd be thrilled with 10,000 visits a month, the second case study will be even more applicable.
How Did batsfinder.com Build Up Their Link Profile
I think Site #1 is interesting if you're really ambitious, but clearly they have some significant experience and budget for link building.
If you have limited resources or experience, I think Batsfinder will show you what's possible for you.
Again, let's break down the backlink distribution:
| | |
| --- | --- |
| URL Rating Group | # of Backlinks |
| 1-9 | 397 |
| 10-19 | 171 |
| 20-39 | 22 |
| 40-59 | 2 |
| 60-79 | 0 |
| 80-100 | 0 |
Batsfinder doesn't have any of those 80+ amazing links.
In fact, their profile looks pretty ordinary.
A few dozen solid links, with a good amount of diversity backing them up.
For a more clear-cut breakdown, here's a histogram of the data: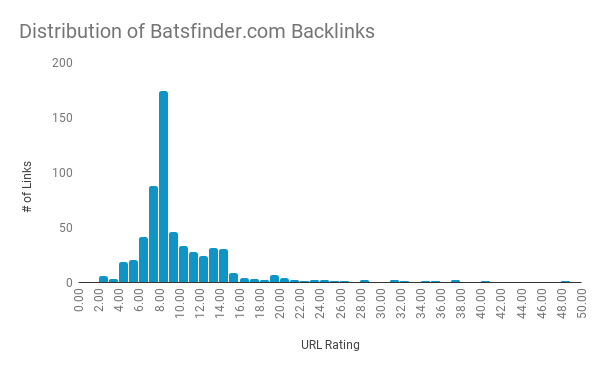 The links largely center around the 8 URL rating mark.
The takeaway should be that you don't need only amazing, hard to get backlinks to rank well.
Even links with a low URL rating can help, especially if they're relevant.
How fast were these links built? (a.k.a. Link velocity)
These graphs are more interesting than Site #1's.
Notice that there was a flurry of link building work done in the first 6 months or so that the site existed, and then it completely stopped right around January of 2017.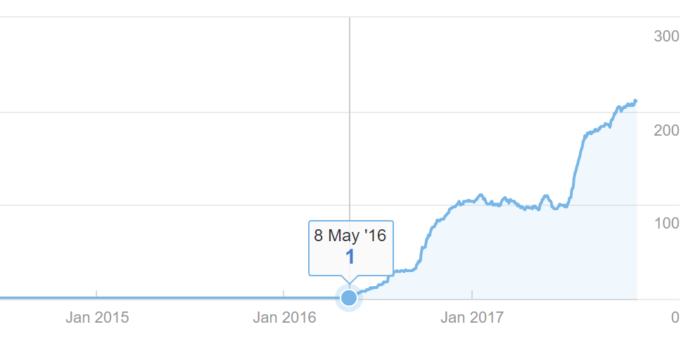 Then, the referring domains spiked again around July of 2017. Here's a zoomed in graph that makes it clearer.

That's 211 LRDs in about a year and a half, or about 12 per month.
Most people can do this level of link building on their own if they'll invest time consistently, or purchase a service for similar results (or better).
The interesting part is when we compare that activity to organic traffic growth. Let's do that now…
How fast did Batsfinder start to get organic traffic?
Here's the organic traffic profile for the site:

Remember that the link building stopped from January to July of 2017.
From the above graph, that's the exact period where organic traffic really took off.
It really shows you why patience is crucial. The results from all that work in the months before took many months to actually translate into rankings and search traffic.
But then what happened?
As we saw, the owner stopped building new links. We can see above that around June, the search traffic stops going up, and actually declines (during baseball season too!).
As soon as traffic started declining, they started up actively link building again, and traffic started to go up just a month or so after (in about August).
The takeaway? Don't stop building links just because you're starting to see results.
What keywords does Batsfinder rank for?
Just to confirm that this traffic is actually valuable, take a look at the top keywords the site is ranking for:
| | | | | |
| --- | --- | --- | --- | --- |
| Keyword | Position | Traffic (desc) | LRDs | Links to Page |
| pitching machine | 3 | 482 | 6 | 36 |
| baseball bats review | 1 | 174 | 153 | 761 |
| baseballbat reviews | 1 | 174 | 153 | 761 |
| softball bat reviews | 1 | 162 | 40 | 215 |
| best softball bats | 1 | 161 | 40 | 215 |
| baseball bat reviews | 1 | 156 | 153 | 761 |
| youth baseball bats | 6 | 150 | 17 | 77 |
| baseball bat review | 1 | 149 | 153 | 761 |
| best youth baseball bats | 3 | 134 | 17 | 77 |
| bats review | 1 | 110 | 153 | 761 |
Only a few pages on the site rank for these terms (that's why the page stats are the same).
Other than the homepage, with 153 LRDs, no other page that ranks for a top term has more than 40 LRDs.
Ranking #3 for "pitching machine" only took 6 LRDs, and none are particularly great. The highest URL rating for that page is just 14.
Once you get enough links to other pages (like the homepage here), it gets easier and easier to rank for other keywords by leveraging your domain authority.
What types of links did each site use?
There's no "perfect" type of link, and no single link building strategy that is better than the rest.
The more important thing to focus on is the authority and relevance of your links. That's why I focused so much on those factors above.
But it is interesting and can be useful to examine the types of links different sites use.
Link types of Site #1
Many of their links were contextual links within blog posts. These are high quality links that were probably obtained through outreach and guest posting.
The rest of the links consisted of a scattering of:
Links from testimonials they gave (e.g. to a WordPress theme)

Social media posts

Blog comments
Nothing too special, the kind of links that everyone has been building for many years.
Link types of Batsfinder
The link profile for this site was very balanced, there wasn't really a single type that dominated the results.
Overall, I saw 5 particular types that were more frequent than the rest:
Links in guest posts

Scholarship links (yes, they still work!)

Contextual links from other baseball niche sites and resource pages

Standard social media and web 2.0 sites

Forum posts
Summary
If you've read this far, my sincere hope is that you have a clearer idea of what you need to do to achieve your traffic goals on a new site.
Hopefully, you now believe it's possible, even for fairly new websites, to rank well in Google.
It's not going to happen overnight, but if you're consistent and patient with your link building, your traffic can grow to a significant level even within a year or so.
We looked at two real examples of new websites substantially growing their traffic within a relatively short amount of time.
There's nothing special about these websites, and there's no reason that you can't achieve similar results, even if your own site is brand new. If you have the patience and follow best practices, you can succeed.