China is home to six of the world's 22 venture capital-backed financial technology 'unicorns' — start-ups valued from US$1 billion
Mega deals in China drove the total amount of funding raised by venture capital-backed financial technology start-ups in Asia to a record US$5.4 billion across 165 transactions last year.
That was up from US$4.8 billion across 162 transactions in the region in 2015, and nearly on par with the US$5.5 billion taken last year by United States venture capital-backed fintech start-ups across 422 deals, according to data from venture capital research firm CBInsights.
It said Asia accounted for about 20 per cent of such deals worldwide and 43 per cent of global funding last year.
"Major investments made by China's established companies tipped the fintech balance in Asia last year," Jon Allaway, the senior managing director for Asia-Pacific financial services at consultancy Accenture, told the South China Morning Post over the weekend.
Shenzhen-based Ping An Insurance (Group), China's largest insurer by market value, spearheaded the Series B, or second-round, fundraising of mainland online lending affiliate Lufax that raised US$1.2 billion in January last year and valued the start-up at US$18.5 billion.
Chinese online shopping giant JD.com signed up new investors led by Sequoia Capital China, China Harvest Investments and China Taiping Insurance to raise US$1 billion in funding for subsidiary JD Finance in January last year. This fundraising valued JD Finance at US$7.1 billion.
Those two transactions were at the top of the world league table in venture capital funding for fintech start-ups last year, according to CBInsights.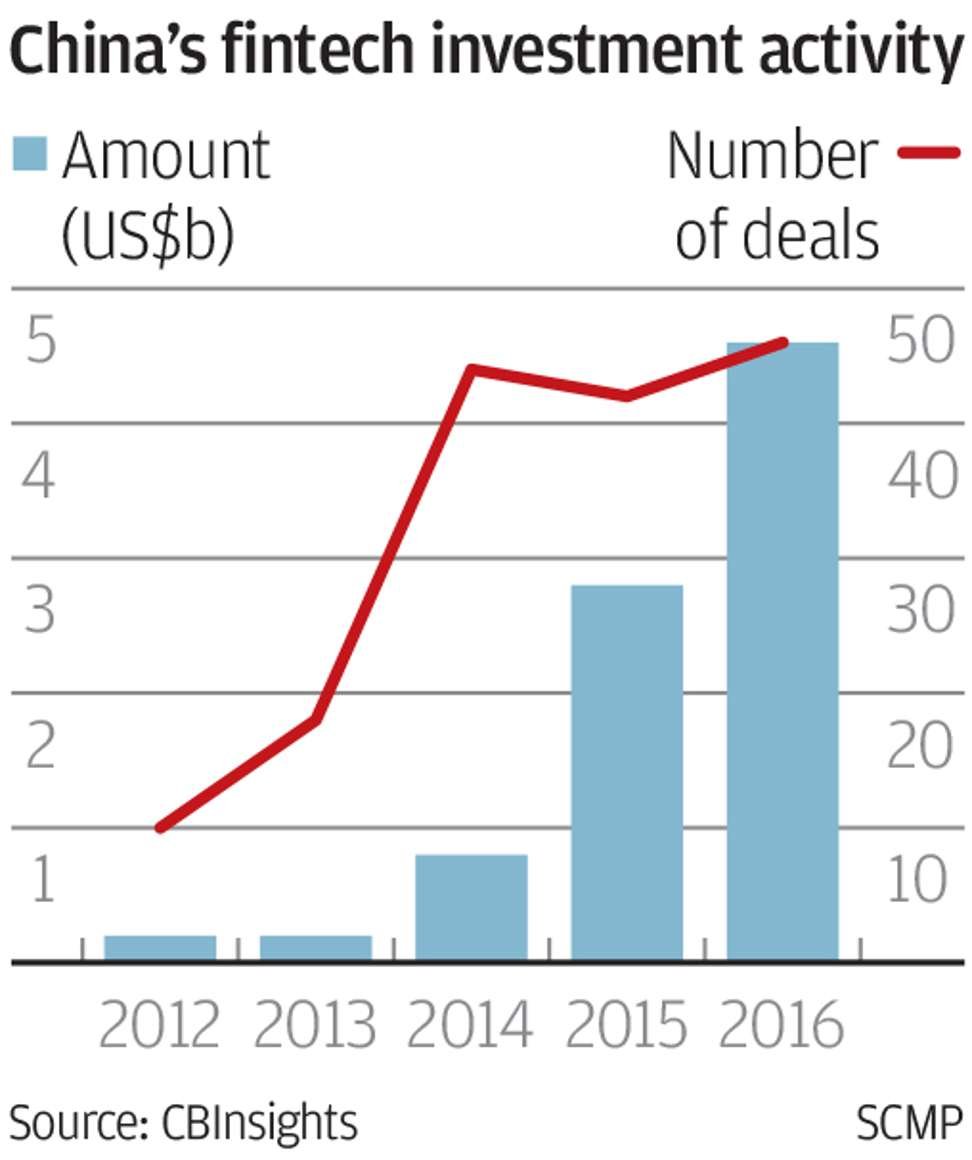 Chinese venture capital-backed fintech companies saw the number of deals and the amount of funds raised reach a five-year high, with US$4.6 billion raised across 46 deals last year, CBInsights data showed.
The top 10 Asian deals ranking of CBInsights excluded the US$4.5 billion Series B private share placement of Alibaba Group Holding affiliate Ant Financial Services Group in April.
It marked the single largest private placement by an internet company, giving Ant Financial a US$60 billion valuation. New York-listed e-commerce powerhouse Alibaba is the owner of the Post.
China Investment Corp Capital and CCB Trust, a subsidiary of China Construction Bank, each led a consortium that participated in the Ant Financial funding round as new investors.
They were joined by existing Ant Financial shareholders, including China Life, China Development Bank Capital, Primavera Capital Group and China Post Group, the parent of the Postal Savings Bank of China.
"Chinese financial institutions are well-aware of the competitive threat, and that is why many of them are investing in fintech companies," said Albert Chan, the managing director for China financial service at Accenture.
Last year, China was home to six of the 22 venture capital-backed fintech "unicorns" — start-ups valued at US$1 billion or more — identified by CBInsights. These mainland firms are Lufax, Zhong An Online P&C Insurance Co, Lakala.com, China Rapid Finance, Rong360.com and 51Xinyongka.
Adam Reynolds, the Asia-Pacific chief executive at online trading provider Saxo Capital Markets, predicted that China will remain "the strongest growth area in fintech globally", and continue to lead financing for fintech start-ups.
Reynolds said there are fintech companies focused on helping the Chinese middle class broaden the reach of their investments, while others develop products that use popular payment systems like Ant Financial's Alipay.
This article appeared in the South China Morning Post print edition as:
China leads fintech financing in Asia