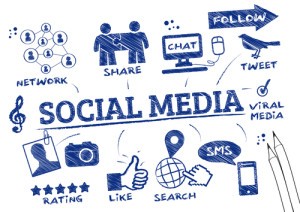 Every minute:
YouTube users upload 72 hours of new video
Pinterest users pin 3,472 images
Instagram users post 216,000 new photos
Twitter users tweet 277,000 times
Facebook users share 2,460,000 pieces of content.
It might be daunting. You need to curate the content, produce it, distribute it, and share it… How not to go crazy? How to avoid spending hours on scrolling and swiping? How not to succumb to an abundance of cute animals videos?
A wise marketer works smarter, not harder, so she arms herself not only with good tips but also useful tools that boost her social media performance. We listed them for you below.
We also look forward to learning what tools and apps help you be more efficient in social media marketing. Le us know in comments!
Why do you need to automate and schedule social media?
You can't do your social media marketing manually, and there is a couple of reasons for that:
Handling social media manually kills your productivity: it's time-consuming and distracting;
You need regularity in posting. and when you get overwhelmed with tasks, your social media activity will drop to the low priority. In consequence, you'll lose credibility and readership you've been building for months;
Automation and scheduling forces a more organized attitude towards social media. It will encourage you to plan more;
If you neglect distributing your content in social media, you limit the number of its potential readers and waste its potential;
You lose options of lead capturing or user monitoring offered by an integration of some social media automation tools and marketing automation platforms.
In other words, you need tools that will streamline the process and a few rules to control your work.
Social media marketing: best practices
Don't publish the content just once. Publish it, and then share once or twice again. "The more often you share, the more likely you are to get clicks," says Neil Patel, a strong advocate for sharing your content multiple times on social media. It doesn't mean that you should share something every hour. That will definitely make you a spammer. Also alter the message each time when you share the same content.
4-1-1: when sharing content on social media, try not to overdo with marketing messages, and 4-1-1 rule with help you find the right proportions. That rule says that for every self-promoting tweet you should tweet 4 pieces of relevant content from others and retweet 1 relevant tweet. (Source)
Schedule posts, but don't be a slave to your post calendar. If you come up with a witty or funny response to something trending, post it! It's impossible to schedule your invention or great ideas, so leave some room for new concepts and spontaneity. It also applies to interacting with your audience – when user asks about something on social media, you might provide the material they would be interested in instead of the planned content.
Batch. Instead of checking your social media all day, assign a specific block of time to social media only and do all your SM-related tasks during that period. It will help you manage time and prevent you from wasting long hours on scrolling and swiping pointlessly. Batching also allows you to avoid switching from the task to social media and back to what you have been doing.
Don't be passive. Avoid futile scrolling! Know what you want to achieve (engage in a conversation, learn something about your audience) and hold yourself accountable.
Sticking to these tips will boost your productivity. And try the tools listed below!
Tools for social media scheduling
Tools for lead generation and campaign management:
Socedo: identify people who might be interested in your products on social media and engage them with a customizable workflow. Work wonders for B2B companies active on LinkedIn and Twitter.
Fast Tony: manages your Facebook campaigns, so you pay only for predefined actions, monitors content and responds to comments and posts, using zip codes and weather data to target your ads more precisely, adding CTA buttons and much more. It can be integrated with Marketing Automation platform. >> Read more on SALESmanago social media integrations.
Tools for social media analytics:
LikeAlyzer: it's a free a simple tool that analyzes your (or any) fanpage and shows you insightful stats about it. What type of posts do you publish most? What's your engagement rate? Do you ask enough questions? Check your fanpage and fanpages of your competitors.
Cyfe: detailed social-media analytics, SEO, AdWords, Google Analytics and brand mentions. Affordable for small businesses.
Social Mention: it's a social media-monitoring tool. Discover what people are talking about your product, your brand and your niche. The tool shows the sentiment, top keywords, top users, top hashtags and your last mention.
Tools for content curation
Do you use any of these? Or maybe you have your types we didn't list in the post? Share your tools in comments!